JUSTIN LOVELY
Motorcycle Lawyer
CALL (843) 839-4111
1053 London St. Myrtle Beach, 29577
Get Your FREE Rider VIP Card!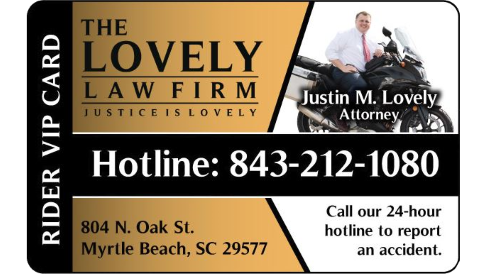 What's Included:
24-Hour Accident Hotline

No Recovery/No Fee for Personal Injury Claims

FREE Legal Advice to Your Motorcycle Organization

FREE Home & Hospital Visit

FREE Insurance Policy Review
CALL TO GET YOUR
VIP Card Mailed To You!
CALL OR VISIT US... DROP IN!
Call our office and tell us where to mail your FREE "Rider VIP Card" or stop by our law firm and pick one up today!
**Injury cases are handled on a contingency fee calculated before expenses from gross recovery. Costs are paid by the client. If we do not win your injury case, we do not charge a fee or costs.
Discover What You MUST KNOW About Motorcycle Insurance Coverage...
(Yes, Do This BEFORE You Need A Lawyer!)